Top Tips
In this part of the paddler safety series, we have some top tips to help to keep you safe on the water. Some of these might seem like common sense but can often be overlooked by paddlers.
It is important to remember that there is no substitute for professional training in this area and this must be combined with experience to effectively use the ideas and techniques contained in this series. This article is not intended to replace formal training.
Dress for a rescue
---
Stay hydrated, be well fed, keep topped up on energy and wear suncream
Our priority when we are on the water should be keeping ourselves safe, this means that a little bit of personal care will go a long way towards looking after ourselves. If we are not well hydrated we can see a sharp decline in physical and mental performance and if we think about how critical our decision making is in this challenging environment, then a dehydrated paddler can quickly make simple mistakes. To perform your best, make sure you have been eating well before you paddle, but also keep topped up by carrying some food or snacks with you while you are on the water. I like to keep an energy bar in my PFD, as it is easy to eat in the eddy rather than getting out of my boat to get it out of my drybag.
---
Rub sand on hands and paddle shaft to get rid of suncream
---
Check your bung
---
Check deck
---
Is your deck implosion proof?
Finding a spraydeck to match your kayak might not be as simple as it sounds, it needs to be the right size, grip the cockpit rim well and shouldn't come off if it takes a large amount of pressure from the water. For paddlers with a bit less experience, having a deck that is easy to get off might be reassuring, but if you are on more serious water a spraydeck coming off mid rapid could lead to a swim.
---
Keep your throwbag close to hand
---
Check the fittings in your boat regularly
We put our canoes, kayaks and other paddling craft through some serious stress. Big landings, hitting rocks and even the vibrations from having a boat on a vehicle can lead to internal fittings working loose. Take a few minutes periodically to give your boat a little tune up and to make sure that everything in your boat is as it should be and that all the bolts are tight. I have personally been half way down a rapid when my seat decided to become detached from the side of the boat! Let's just say that the experience wasn't very pleasant and could have easily been avoided with a bit of maintenance and TLC.
---
Use airbags!
Airbags will make your boat easier to rescue, less likely to get pinned and will help reduce damage when it is floating downstream as it will be floating higher in the water rather than getting submerged in whitewater. Most modern creek boats have room in front of the footrest for a pair of smaller bow airbags. Topping these up with air can be a challenge if you put the pipe behind the footrest so consider routing it down the side of your footrest adjustment bar with either a bit of bungee or zip ties.
---
Use a footblock
Never be apart from your keys and phone
---
Be ready with your sling
---
Use good shoes
Think about all the jobs that you might need your shoes to do….paddling, swimming, running, climbing, even driving. Most of the time we are also walking over wet rock, muddy banking and on uneven terrain, this means that we should choose footwear that is up to the task. Try and choose a shoe with a good grippy sole, decent foot protection and support and ultimately something that you can actually fit in your boat and paddle in.
---
Upgrade your knife
Any paddler who carries a rope should be carrying a knife. Make sure that your knife is rust free and opens easily, a bit of WD40 or lube will help it last much longer than if it stays wet in your PFD all the time. On many knives, you can add an extra bit of tape to the thumb hole which can act as a bite tab to help open it should you have cold hands. You can also add a piece of cord at the end to make it easier to get out of your PFD in a hurry, simply reach for the cord and pull it out.
---
Attach bags with proper karabiners
---
Wear earplugs
Anyone who paddles is at huge risk of "surfers ear" and we can reduce the risk of developing long term hearing loss by using earplugs. Earplugs quite literally come in all shapes and sizes and it is very easy to have them custom made too, it shouldn't be too hard to find something that is comfy and won't fall out if you go underwater. Remember "surfers ear" isn't to do with your age, it's about the amount of time that you spend in/under the water, if you are on the water regularly you certainly are at risk.
---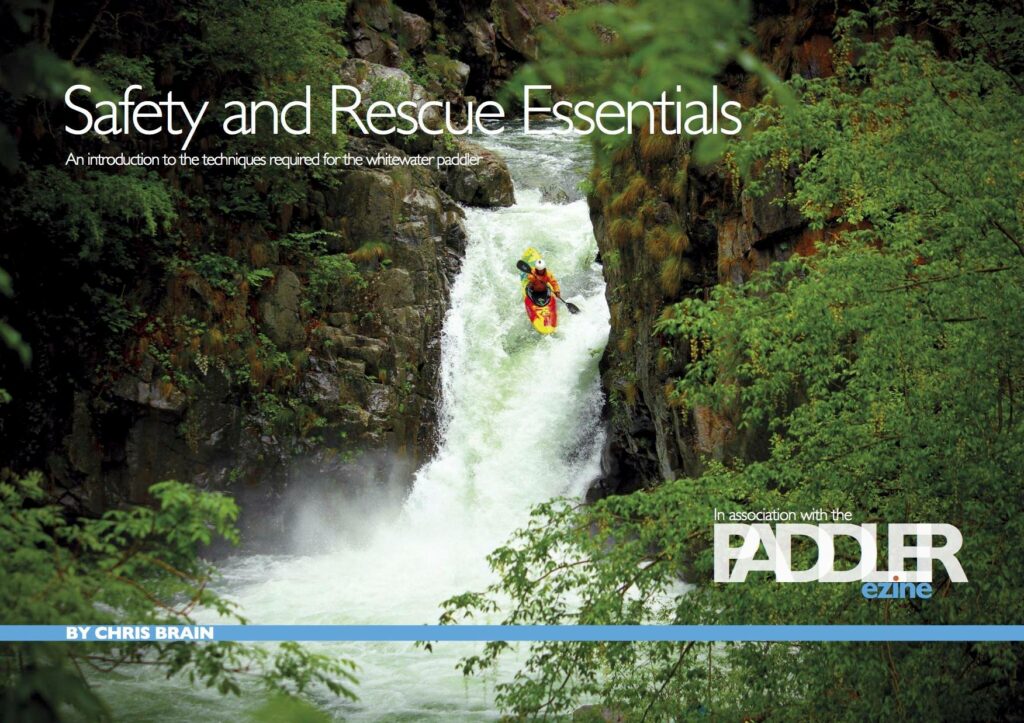 For more amazing top tips check out Chris Brains Safety & Rescue Essentials here:
---
Chris Brain Bio
Chris has been kayaking, canoeing and coaching for the last 15 years and runs his own business Chris Brain Coaching, delivering paddlesport coaching, safety and rescue courses and REC First aid training.
Chris would like to thank Pyranha kayaks, Red Paddle co, Palm Equipment, VE Paddles and Go Kayaking for their continued support
chris@chrisbraincoaching.com