We have been making Inflatable SUP boards for years, striving to produce what we consider to be the world's finest… so, why do we think that our SUPs can be considered to be the world's best?
Here are 11 reasons why we think O'Shea iSUP's are the best in the world…
HERITAGE: With experience in the field of performance board sports stretching back to the mid 1980's, O'Shea have the knowledge and experience to bring you the best in design and construction. Read more about our history by clicking here.

DURABILITY: Proven durability. Our yellow PVC outer skin is anti UV, reducing the effect of the sun's harmful rays (and saltwater) – Keeping the board NOT ONLY looking good for longer but also maintaining its residual value.
PERFORMANCE: Whichever board you choose, we have used our many years of experience in the board sports sector and worked hard to ensure that all our Inflatable SUP boards will deliver for you. We have a board for almost every level of experience and purpose.
INNOVATION: O'Shea are leading the way in both design and construction with our HPx construction, which is 20% lighter than any fusion or MSL and its also stiffer too!!!
HIGH QUALITY CONSTRUCTION:
– Combining the best available materials with cutting edge manufacturing processes.
-O'Shea inflatable paddle boards are made exclusively from Korean "Mirasol" drop stitch, which is considered to be the Rolls Royce of Inflatable SUP core fabric. It is quality that lasts and we reckon it is the best that money can buy.
-1000D PVC outer, full double layer rail lap combine to make a trouble free belt and braces construction.
-O'Shea "Premium HD and Premium HP" are the only constructions we approve and are a constant in all our boards.
-Longitudinally and torsionally (often neglected) stiffer construction results in boards that maintain both shape and performance characteristics.
-Heavy duty front towing and rear leash D-Rings.
SAFETY: We believe that yellow is the safest yet fun colourway. Be seen and stay safe on river, lake or ocean.
EASY TO USE & TRANSPORT:
-O'Shea boards can be typically used at lower pressures, 13 to the recommended 15 psi. Pressures easily achievable by even the lighter weight riders with any pump.
-Lightweight and easy to transport, all boards come with a durable back pack to carry your SUP and accessories. Our HPx range are some of the lightest available today.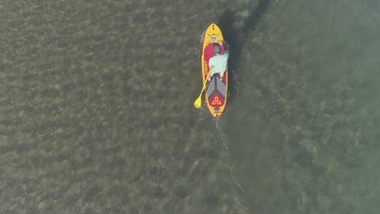 PRICE: Competitive pricing policy. There are cheaper boards on the market, however, when it comes to that all important price to quality ratio, we believe you are getting the best value for money.
RIDER TESTED: All O'Shea Inflatable SUP products go through a rigorous testing procedure to ensure that the product you choose will be the right one.
2 YEAR WARRANTY: All O'Shea Inflatable SUP's are already covered by a 12 month warranty against manufacturing defects. To upgrade to a free 2 year warranty, simply fill in the form on the warranty registration page.