Immersion suits, one piece, dry suits – whatever you call them they're a key feature in your winter paddling kit. One that allows you to keep warm and mostly dry. Paired up with a good set of thermals you can conquer any weather that comes your way.
Suits can be expensive so it's really important to get the right one for you. To help make that decision easier we'll go through what to look for in a suit as we discover which suit, suits you!
Neck Cuff
The neck cuff can have a big impact on comfort & how dry you stay. A latex neck seal would keep most of the water out but might feel more restrictive to wear, whereas an open collar would be more comfortable at the cost of water resistance.
Typically, paddlers want a latex neck if they are paddling on any sort of whitewater as there is a higher chance of complete submersion.
Touring paddlers or stand up paddlers would typically want a breathable open neck cuff possibly with a hood to help shelter from the elements.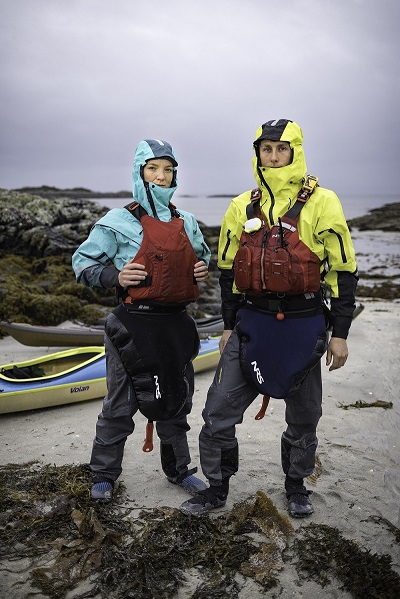 Zips
Zips are a really important factor for a number of reasons.
The entry zip of the suit often varies between models. You'll see chest zips, shoulder zips and Peak PS have 2 models that have leg zips.
The shoulder zips are most common in suits. If it's a shoulder zip make sure it's plastic and no more than 10mm – otherwise there is a good chance it will rub against you and restrict your shoulder movement
Try to avoid big brass zips on the shoulders. One bend in a brass zip and it's broken – which is easy to do if you're stuffing it in your kit bag. Plastic zips are a lot more durable and they can be bent, folded and stuffed into a kit bag. Just make sure your zip is really well lubed.
Chest zips are becoming more popular because unlike shoulder zips, it's much easier to do them up yourself, plus they're are less restrictive.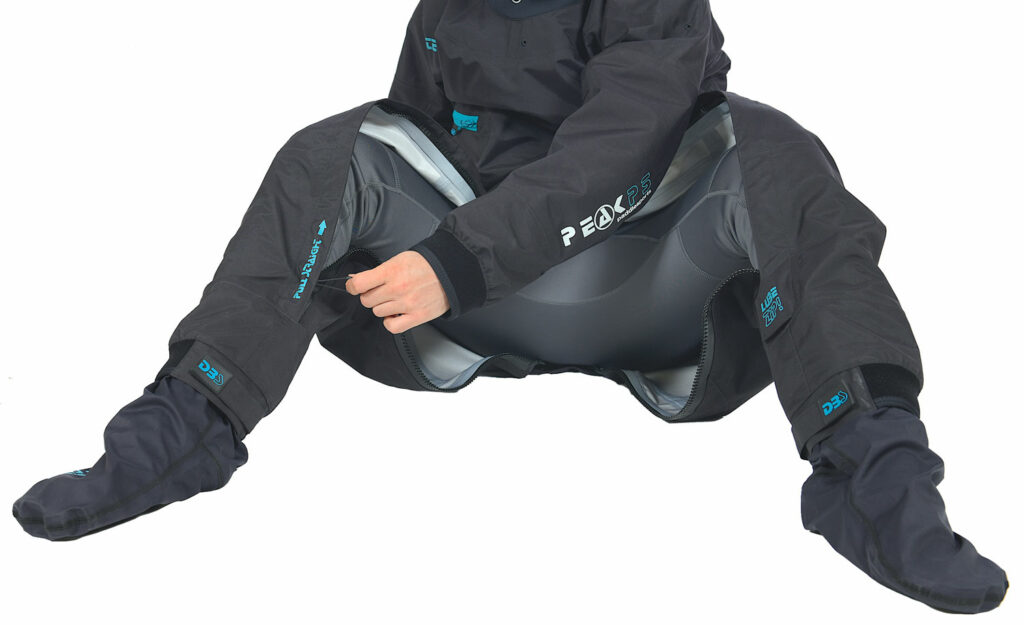 Leg zips are exclusive to Peak PS and are a personal favourite of mine. Leg entry suits allow you to enter head first up through the leg area. The zip allows complete freedom of movement in the upper body and doubles up as a convenience zip for men & women – plus like the chest zip – you can do it up yourself.
Materials
Brands use different materials, and different weights of those materials. This all affects performance, comfort, durability and cost.
Typically the heavier the material the warmer it will be – but the more it'll cost. But it doesn't always mean you'll be less warm in a lighter suit. A lighter suit with different layers of thermals underneath can work better than a thicker suit.
The Peak materials are an X4 mid-heavyweight material with 20m waterproofing and reinforced knees, elbows, shoulders and bums. This makes a warm, durable and waterproof suit.
NRS have a new full range of 3 layer GORE-TEX Pro suits for both whitewater & touring. These have a fantastic balance of weight, durability and comfort. NRS also have a range of 4 layer lightweight Eclipse material which give you all the benefits of a 4 layer suit but without the weight – a great option.
Fit
Ultimately, fit is the most important and although you might like the looks of a particular suit, that brand might not be compatible with your fit. Getting a one piece suit that fits you can be challenging, but we at Go Kayaking are here to help.
We can certainly advise you to assist with your online purchase, but the absolute best way to get the right fit is to visit us at our Runcorn store to try on the range and ensure the suit you're leaving with is the best fit for you. There is usually some compromise with suit fitting, get the extra room in the chest for example you might need a slightly longer leg and vice versa, and there is no better way to find that fit than trying the suits on.
Ultimately, the best advice is to invest your money in a suit by a reputable brand – and of course to try them on first!
Go Kayaking are here to help you with that. We can help you get the right suit for you from a wide selection in our Runcorn store, ready for you to try on. With our buy now pay later services and the option to extend the warranty on the suit with our paddlemore card, it's easier than ever to get an immersion suit that will have you paddling comfortably and dry.