Paddling through the winter can be one of the best times through the year to go paddling – the colour, the mist, the calmness is all unbeatable. I certainly do most of my paddling through this season and it isn't to be missed.
The amount of layers I wear to get me through the cold days is unreal – but it is all worth it and layering should not be a barrier to paddling through the winter. There is so much lovely kit out there designed to keep you warm!
Base Layers
Paddlers base layers are an essential. They have key design features that are specific to paddlers and are much more effective than general outdoor thermals. Don't forget about thermal pants too, get covered in thermals! Our best seller is the Peak PS Thermal Long Sleeved Top & Bottoms
Paddlers base layers;
Keep you warm when wet
Dry quicker than regular base layers
Move moisture away from your skin and towards your outerwear, which will in turn move the moisture out
Paddlers cut – longer arms and no seems under the arm pit to reduce chaffing.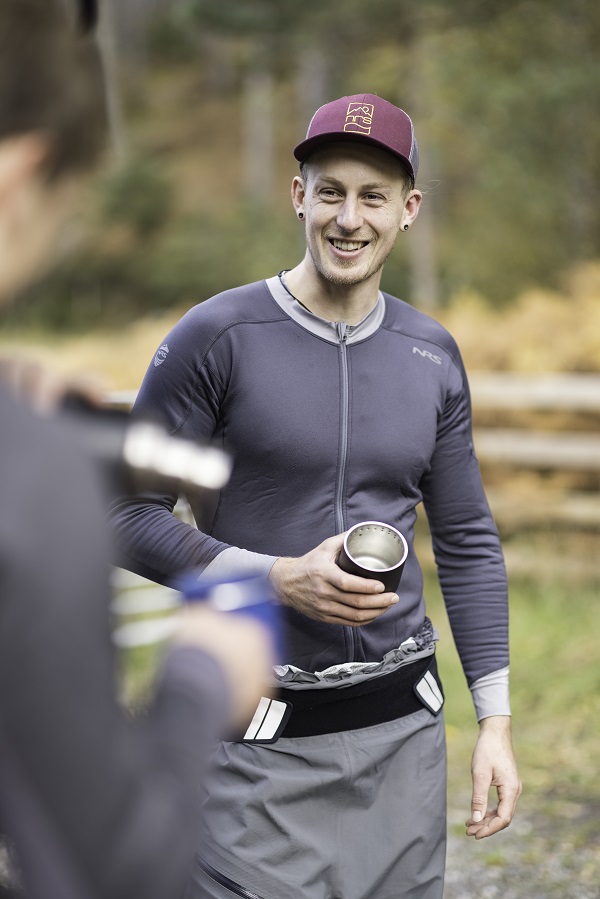 Outerwear
Once you've got your base layers on you need something to keep the wind-chill and the cold water off you. Splash tops, semi-dry, immersion tops, sallopettes or one piece suits. All important part of the layering.
Where your paddlers thermals will move any moisture away from you, it's the outerwear that will expel the water out of your layering, whilst preventing water ingress. So it's important to get something breathable. Below are some options
Splash Tops & Splash Bottoms
Simple lightweight, breathable with paddlers cut. Just enough to keep the chill & drops off you. Ideal for SUPers and Sit on Top paddlers.
The NRS Tor Jacket is perfect for this. Available in mens and womens sizing and doesn't break the bank either.
The NRS Endurance Pants, again in mens & womens fit, are ideal for the trouser option. A really nice 2.5 Layer eclipse fabric moves moisture away from you with hood for maximum wind-proof.
If you don't wear anything on the legs then your blood will cool much much quicker in the legs and that cold blood will return to your core and will severely impact your core temperature.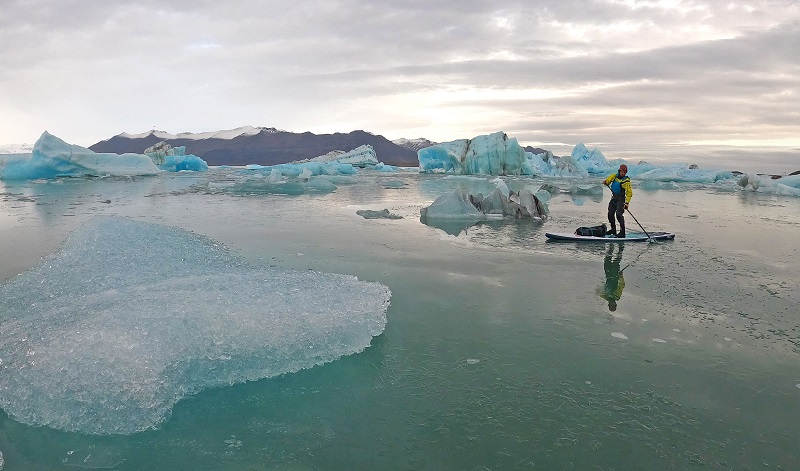 Immersion Tops & Bottoms
Also known as a 2 piece. The tops and bottoms form a seal around your middle to minimise water ingress. Ideal for those that are might end up in water, such as whitewater kayakers, or SUPers who might fall in.
Immersion tops tend to have latex seals on the wrist to minimise water ingress. The neck seal can vary and is personal preference. The Peak PS Deluxe jacket has a latex neck to further minimise water ingress, where as the Peak PS Freeride has a bioprene neck cone which is more comfortable than a latex neck, but perhaps 90% effective at keeping the water out. Touring jackets, such as the NRS Riptide (available in mens & womens) tend to have an open neck, with a collar and a hood to protect you from any winter elements.
Keeping your core warm is key. The warmer your blood is in the core section of your body then the warmer it will be when it reaches your extremities, giving you the best chance of keeping your hands, feet and face warm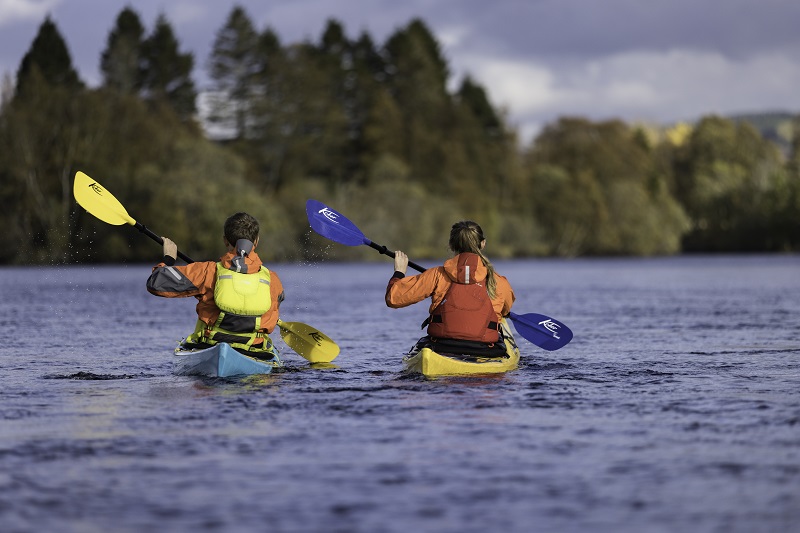 For Immersion bottoms we highly recommend a pair of paddling trousers with feet. Your legs won't be moving, so it's really important to keep what warmth there is down there in. If you don't wear anything on the legs then your blood will cool much much quicker in the legs and that cold blood will return to your core and will severely impact your core temperature.
Immersion tops & bottoms are more durable, windproof and waterproof than the more basic splash tops making them a dryer, warmer option for winter paddling.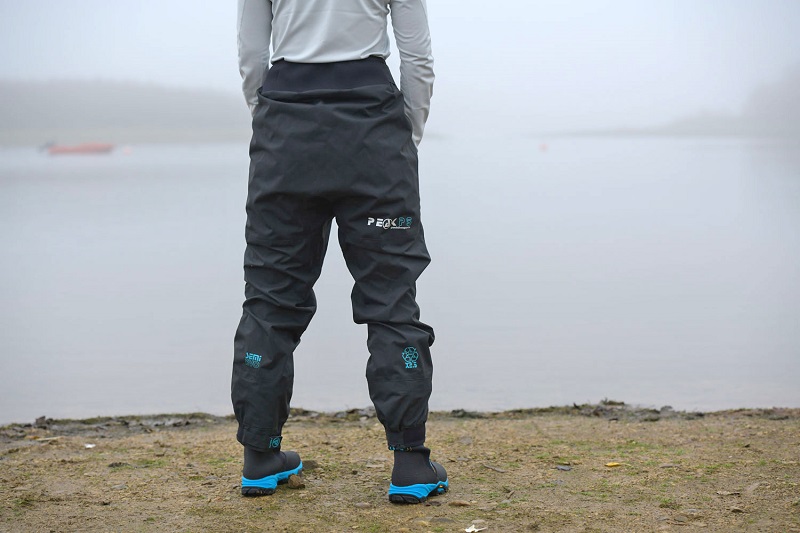 One Piece
A one piece option also known as a surface immersion suit, is the pinnacle. Being locked into a garment that shields you from the elements is really the best thing at keeping you warm and dry.
A breathable suit that moves moisture away from you is perfect and suits designed by a paddlesport brand such as Peak PS, NRS & Palm Equipment is going to have all the features you want from a One Piece.
Suits are designed for both whitewater and touring and the main difference being the neck seal. Whitewater suits tend to have a latex neck seal to keep as much water out as possible whereas touring suits tend to have a bio-prene or open collar for comfort as sea salt tends to cause chafing when mixed with latex.
We stock a wide range suits and our biggest recommendation is to visit us in Runcorn to try the range on. The difficulty with suits is getting one that fits, and the best way to know if it fits is by trying them on.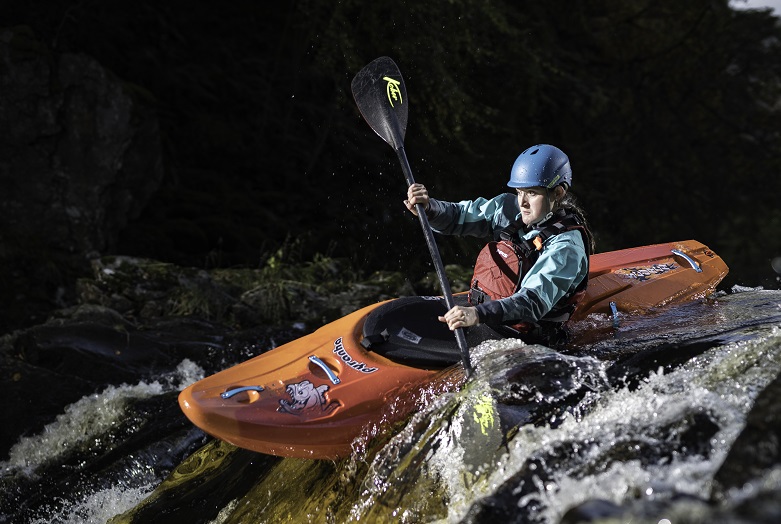 Conclusion
Get paddlers thermals – and lots of them!
Cover your legs – get some trousers
Keep your core warm
Get more thermals!
Written by Andy Lees, 15+ years paddling experience