The current range of P&H sea kayaks really does have a kayak for everyone, whether its expedition sea kayaking, day trips around anglesy, crossings or tide races & overfalls. In the pursuit of perfection, the range of P&H polyethylene kayaks have 2 different constructions and they are very different. It's worth familiarising yourself with these as well as their benefits, before making a purchase.
Corelite X
Corelite X is a premium 3 layer sandwich construction. Although this concept has been around since the Orca was developed in the late 90s,the refinement in the process and materials has brought the Corelite X construction to the very top of the PE market and bridges that gap between plastic boats & composite.
Corelite X has an outer & inner layer of super linear HDPE. Sandwiched between this is a foam core which is light & incredibly stiff. The photo below shows the inside of a Corelite X boat, with the middle layer of foam sandwiched between 2 layers of HDPE.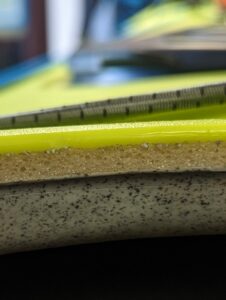 The biggest benefit to Corelite X is the stiffness – there aren't stiffer plastic boats around and this enhances performance on the water. A stiffer kayak will be able to put more momentum into forwards paddling, rather than that momentum being wasted with bending or flexing of the material – for the same reason a Corelite X kayak is more responsive.
You'll also notice 1 – 2 kg of weight differnce between MZ3 and Corelite X making the CLX material easier to handle off the water too.
The Corelite X range also comes with the bow mini hatch fitted & the premium skeg slider which allows greater control than the jam cleat which is offered in the MZ3 Virgo.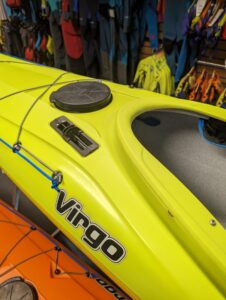 There really is no upgrade from Corelite X; incredibly durable, high performance, feature rich sea kayaks from P&H.
MZ3
Tried & tested in the Pyranha whitewater range, MZ3 is a single layer rotomolded polyethylene that offers high impact and scratch resistance at a readily affordable price. The durability of the MZ3 is unrivaled and it's incredibly easy to repair & gives you a premium P&H sea kayak, on a budget.
The MZ3 is a touch heavier than the Corelite X by 1 – 2 kg, this extra weight gives you better impact and scratch resistance. You'll also find it less stiff, which makes the kayak feel less responsive, especially on lumpy waters.
The MZ3 comes with a much simpler jam cleat skeg system, which is a very simple up or down & it comes with the bow mini hatch as an optional extra, if you desire.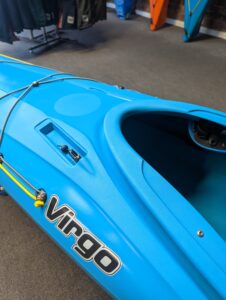 Vigo & Leo are available in both MZ3 and Corelite X
Scorpio, Delphin, Valkyrie are available only in Corelite X
If you have any questions, or queries about anything kayaking please get in touch. We're more than happy to talk to paddlers and offer our expertise to ensure you get the right boat.
Written by:
Andy Lees. Sea Kayaker 15 years. Paddling P&H Scorpio around Anglesey every weekend.