As whitewater paddlers, we spend a lot of time in and around rivers. It is important to remember that we are responsible for ensuring that our passion for the sport does not come at the expense of the environment we love. This blog will explore sustainable practices and how we can keep paddling whilst reducing our environmental footprint.
Sustainability
Sustainability comes in all shapes and sizes; we are not just trying to pick up litter and limit our carbon output. We want to create a positive future for whitewater paddlers, other river users and other species who live around the river. As sustainable paddlers, we strive to create positive change and foster a positive attitude towards sustainability.
Respect wildlife and habitats
As we venture into river ecosystems, we must respect the wildlife that calls these areas home. We should avoid disturbing nesting birds, riverbank habitats, and aquatic life where possible. We should aim to paddle in relatively small groups if paddling through a protected area and ensure that we check regulations around paddling when fish are spawning and when birds are nesting in the riverside environment. Keep a safe distance from wildlife and observe them quietly from afar. In doing so, we contribute to the preservation of these delicate ecosystems.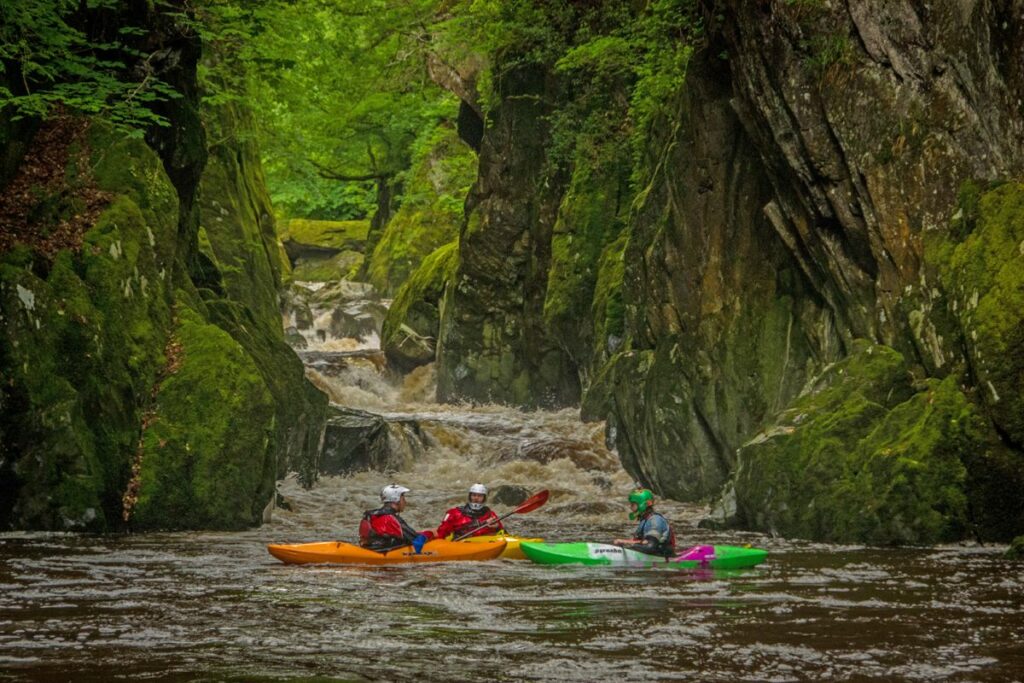 Leave nothing but footprints
Whitewater kayaking is centred around our appreciation for being in beautiful places. We want to leave a positive impact on the areas we paddle. Where we can, we should stick to marked paths and pick up any litter we find along the way, creating a safer space for those who use the river next. We should aim to do our bit to keep rivers clean and running free, whether that be free from trees, debris or dams. This can mean sharing photos of trees and obstructions on social media or taking a saw and clearing the river directly.
We also must be aware of the diseases and non-native species we transport on our boats and kit into wild spaces. We should wash kit where possible to mitigate against the transmission of harmful bacteria, diseases and species between rivers.
Support River Conservation Organisations
Join river conservation organisations and participate in their initiatives to protect our waterways. Volunteering for river clean-ups is a fantastic way to get involved in direct action and help support the river environment. By supporting these organisations, we can actively work towards preserving the rivers we cherish. We are very lucky that there are events such as the Dee Valley Clean Up and the River Kent Clean Up, which are organised to help us come together as a community to protect the space in which we play. These community events are also great for meeting local paddlers and making new connections.
You can also help with bigger conservation efforts through Save Our Rivers!

Tell your friends!
Spread the message of sustainable whitewater kayaking within the kayaking community and beyond. Educate fellow paddlers about sustainability and encourage them to adopt sustainable habits. Share your experiences and love for the environment through social media and other platforms, inspiring others to be stewards of nature.
This Blog was written by Alex:
Alex works part-time in our North Wales shop. He is a keen multi-disciplinary whitewater paddler who can be seen out on the river every day of the week.