Whilst 'Wet Leg' might be a cool up-and-coming indie band, it's not what you want if you swim out of your boat. If you keep saying, 'I'll get one when it gets colder'…It may be time to brace yourselves! Winter is coming!
With the correct layering underneath, surface immersion suits can unlock a whole new season of paddling that you may have previously written off.
Paddling dry suits are what we call Surface Immersion Suits, where they are made from materials that are highly breathable, light weight and easy to wear as we intend for most of our paddling to be on the surface, rather than in the drink. Suits made for diving or other water sports will be really good at keeping all the water out, however they will not be comfortable to wear on the surface, where we intend to spend most of our time.
Materials
Paddling suits are made from multiple layers that all contribute to their functionality.
These layers are typically what's referred to when you see X2.5, or X4. Usually the higher the number, the more layers you have making it more functional.
1 – The outer material is usually made from a ripstop denier nylon material with an added DWR coating for waterproof
2 – A Microporous layer that moves moisture one way, out of the garment without letting water in.
3 – A hydrophilic layer which adds to the breathability of the suit. The hydrophilic layer attracts moisture that is inside the suit, usually your sweat, and moves the moisture into the microporous layer which moves the moisture out of the suit
4 – Usually finished with an inside liner that adds to the durability of the suit.
Zips & Entry method
All suits have a zipper entry method. Usually either shoulder, chest, or leg entry. All paddle sport brands now use the tried and tested 10mm YKK Aquaseal zipper.
Shoulder zips are typically the most common, The large zip would sit on the top of your back and go from one shoulder to the other. This method typically dates back to when zips were big and brass and the natural curve of your shoulders matched the natural curve of the zip, meaning the more delicate brass zips were less likely to break. We still see this shoulder entry in modern suits which now have plastic zips. A shoulder zip also makes it easier to take the top half off between running shuttles making the shuttles more comfortable. A downside is that it can be difficult to do the zip up yourself and you're often relying on other paddlers to zip you up. As more durable and bendable plastic zips have become more common place there are now other entry methods to suits worth considering.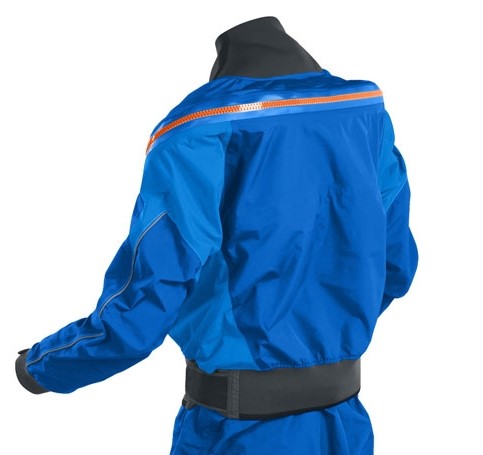 Chest zips go across the front of your chest from right shoulder to left hip for example. This is a solution to allow the user to zip their suit up themselves without having to rely on anyone.
The leg entry method is unique to a range of Peak PS suits. The problem with both chest & shoulder zips is the zip (often the bulkiest part of the suit) is situated where you'd prefer freedom movement to get your strokes right. So Peak designed a leg entry method. Entering the suit through the legs means you have no zip across your chest or shoulders which gives you a greater freedom of movement & you can do it up yourself. This zip also acts a relief zip for both men & women. The only downside to the leg entry is you can't let the top half off to breath whilst doing shuttles.
Relief or convenience zips are common place and essential. Mens suits typically have a vertical or horizontal relief zip and womens suits would have whats called a drop zip where the zip goes from hip to hip allowing for comfortable squatting. Never buy a suit without a relief zip you'll regret that later.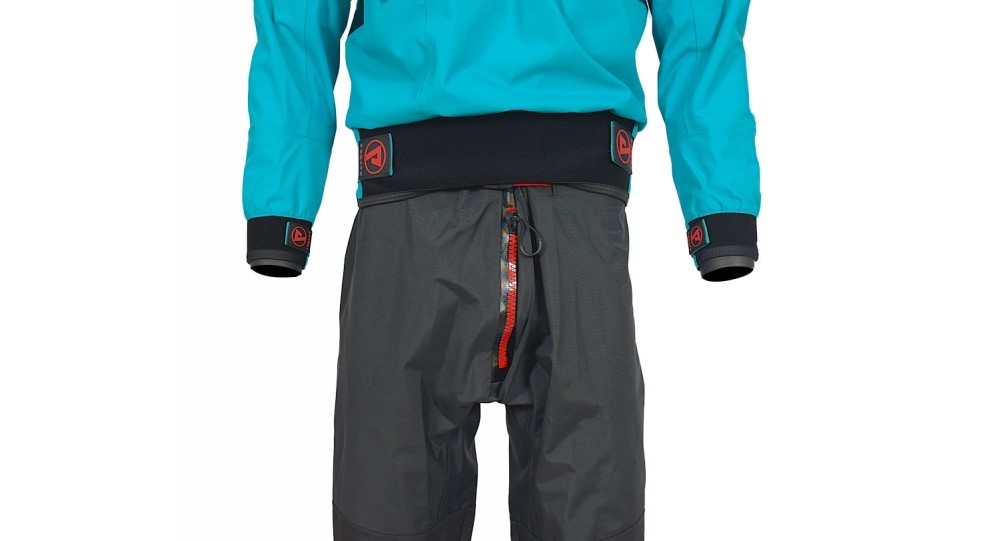 Fit
One of the most important considerations with one piece garments is fit. Quite often you can love the idea of a suits features, but if that brand doesn't fit you then it won't work. As long as you buy a suit made by a paddling brand then you will get a top quality suit, the next most important is fit. Check and double check the size guides provided & if you're in doubt, always go for the bigger size so you have the excess for thermals underneath. The worst thing you can do is buy a suit that is too small.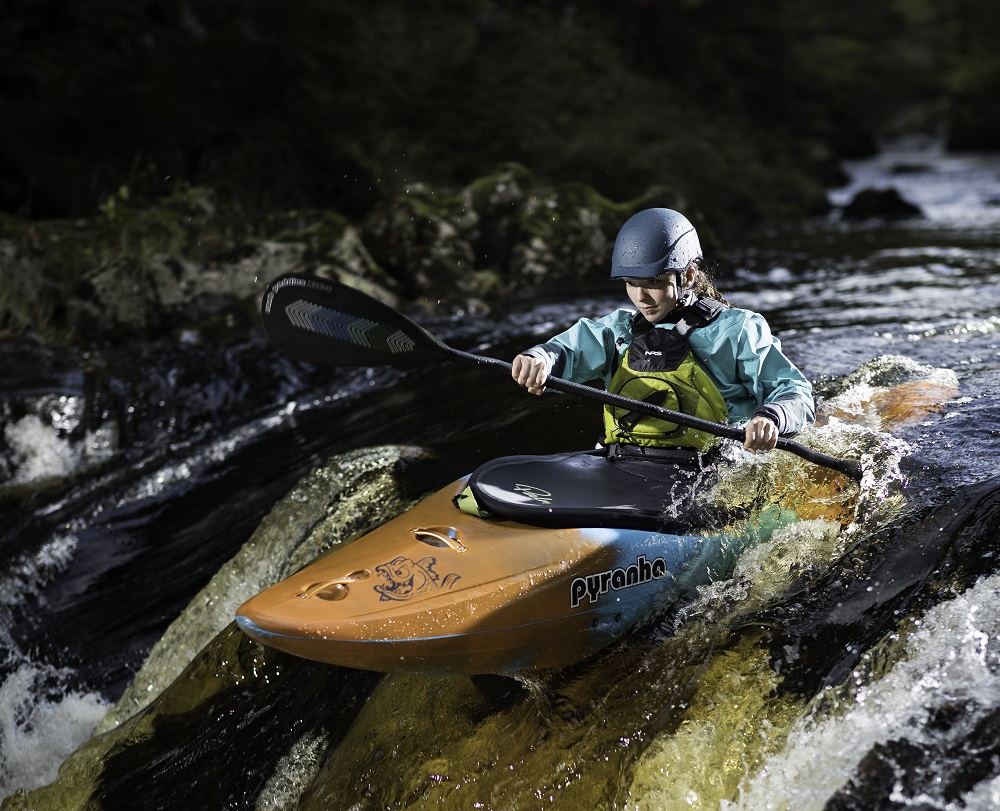 Whitewater
Whitewater paddling doesn't have to be sending the biggest water. It can be a gentle float down your local grade 2/3 river in a kayak, canoe or SUP. If the water is moving, then there is a higher chance of capsize and therefore wearing a suit in winter can be key to staying warm & safe.
Typical whitewater suits would have latex seals on the neck & wrist and fabric feet, completely sealing you into the suit with a waterproof zipper. They would also have a waist tube tunnel for your spray deck.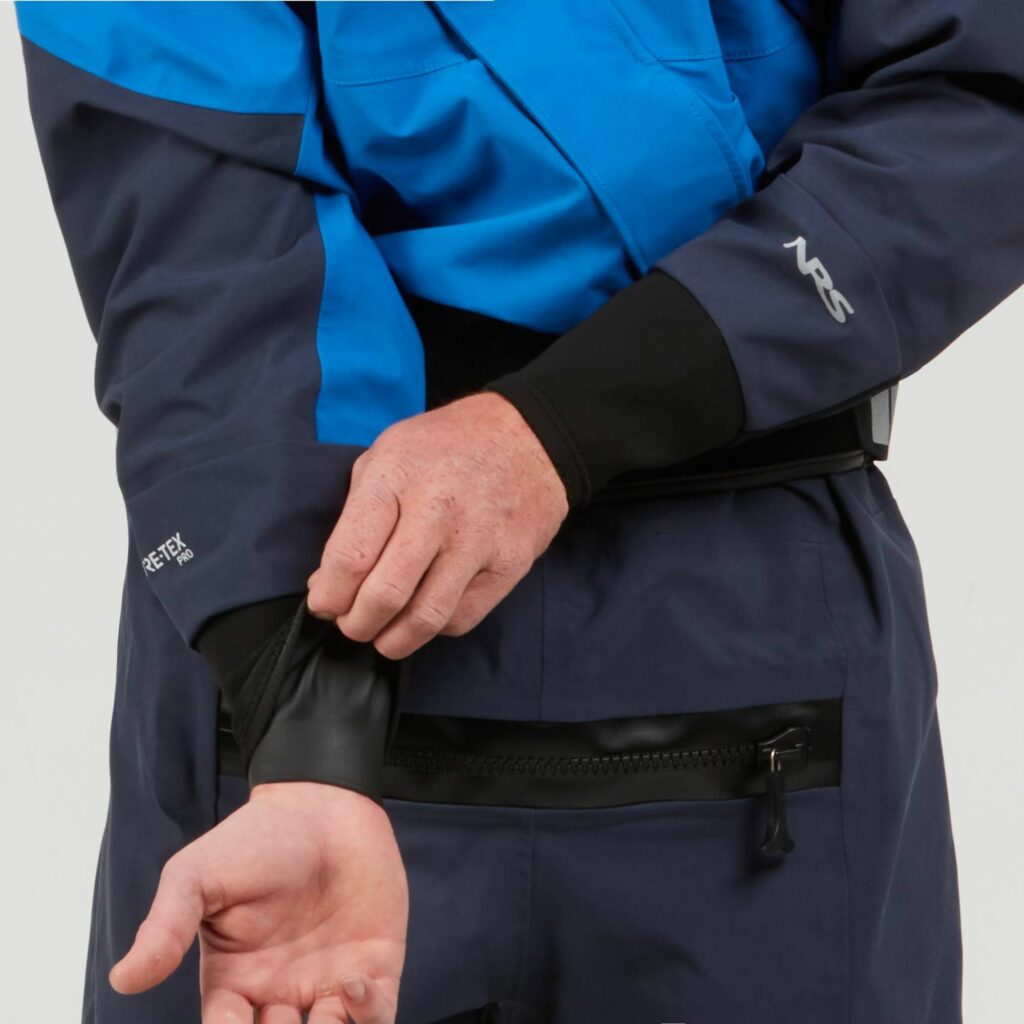 Sea & Touring Paddling
Suits intended for sea paddling or longer distance touring usually have all the same features as their whitewater counterpart, but have a more open breathable neck collar.
Latex can chafe when mixed with salty water, so sea paddling suits will have a comfier neoprene neck that is more suited to longer days at sea. These suits would also have more reflective detailing along with an adjustable hood. Otherwise, the features would remain the same.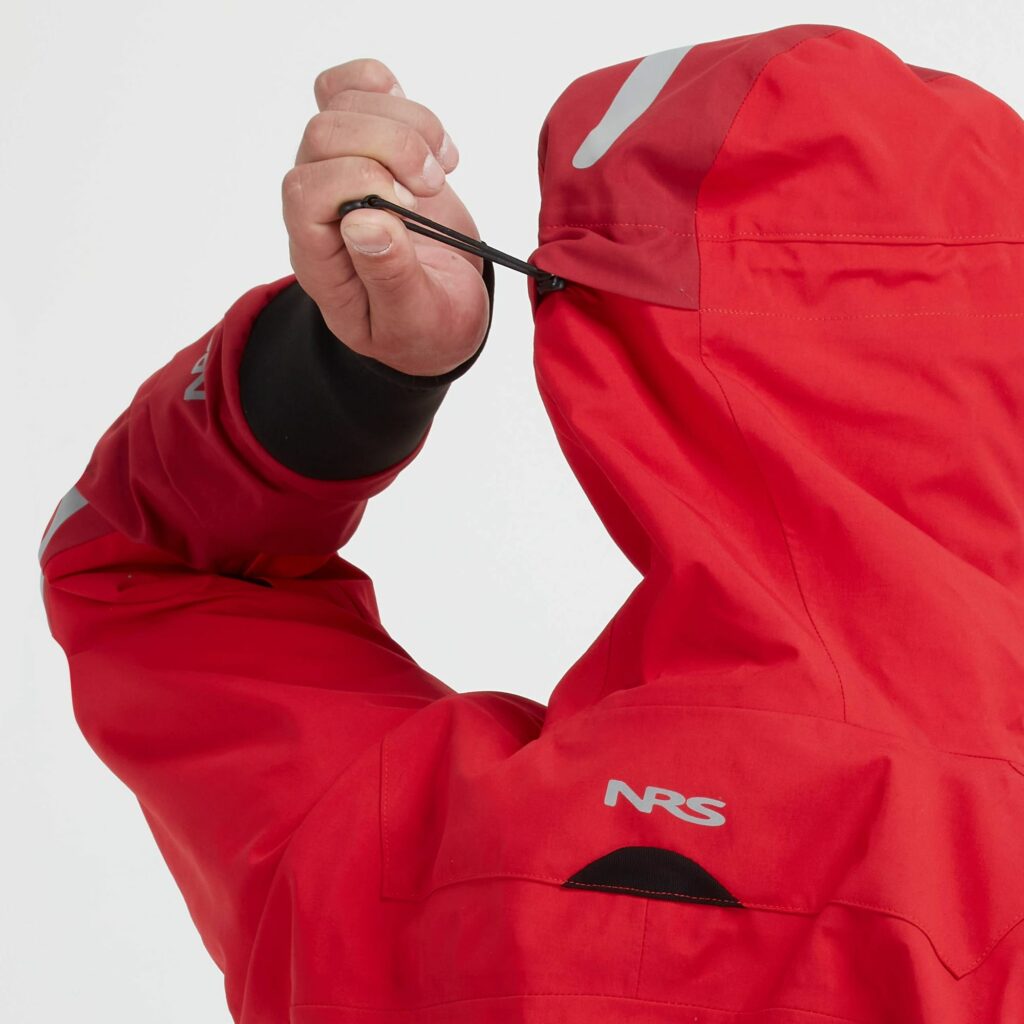 Is Gore-Tex worth it?
Yes.
You may see some suits that are more expensive than others called Gore-Tex suits. Gore-Tex is referring to the high-performance best in class materials that the suit is made from. It is only Gore-Tex material that is guaranteed to keep you dry.
Gore-Tex Pro is a material used by NRS in their top end Axiom & Navigator suits which are the most rugged suits, but it's done it a way that doesn't add bulk. The material has been rigorously tested in the most rugged of conditions to ensure long product life.
Care & Repair
How do i care for a dry suit?
Always wear neoprene socks over your suits fabric socks to protect your suit. This prevents your sock from rubbing on grit all day inside your shoe and protects your suit.
Suits should always be rinsed with fresh water after every use. The zips need to be regularly lubed with zipper lubricant. Never wash in a washing machine, never tumble dry, do not expose to sun unnecessarily.
Latex seals can feel tight initially but will give a little over time. They are designed to be a tight fit on your wrist & neck so require some stretching to go over your hand & wrist. If you get your suit and the seals do feel tight, don't panic. You can stretch the wrist seals over a can of pop, or the neck seal over a football or water melon. You can cut the seals down with a hot knife, but make sure you've given the latex a good chance to stretch naturally before cutting it down.
How do i repair a dry suit?
The best way to repair a dry suit is to send it to a specialist. We recommend Hammond Dry suits for any repairs. You can purchase latex seals from us at Go Kayaking and have a go yourself as a cheaper option but it usually means a more expensive bill later.
Want to know more?
Visit one of our stores to try the range on. We stock Peak, Palm & NRS suits in both our stores with our whitewater range based in the Llangollen store and our Sea & Touring range in our Runcorn store.